Visit Grandfather Mountain

Grandfather Mountain
Grandfather Mountain is one of the most popular tourist destinations in western North Carolina. As the highest peak in the Blue Ridge Mountains, it has been a destination for naturalist for over 200 years.(Elevation of 5,946 ft) . It's about 80 feet from the bottom of the bridge to the bottom of the gorge. It is the only private park in the world designated by the United Nations as an International Biospere Reserve. (encompassing many different species of plants and wildlife that are rare and almost extinct.) There are several other peaks in North Carolina higher than Grandfather Mountain, with Mt. Mitchell being the highest in eastern America at 6,684 feet, but they are not in the Blue Ridge range. Most are in the Great Smokies. Mt. Mitchell is in the Black Mountain Range.
Location is just 2 miles south of Banner Elk, NC. and two miles north of Linville coming from 221. Off the Blue Ridge Parkway it is milepost 305. Rising nearly 4000 feet above the Yadkin and Catawba River Valleys, Grandfather supports 16 district habitat types in abut 3,000 acres. Such variations include: Northern Hardwood Forests, Heath Balds, Red Spruce, Fraser Fir Forests, and high elevation Rocky Summits.
Grandfather Mountain Location:
The street address is: 2050 Blowing Rock Highway, Linville, NC 28646.
Hours & Rates:
| Children Under 4 | Child 4 – 12 | Adult 13 – 59 | Senior 60+ |
| --- | --- | --- | --- |
| Free | $7 | $15 | $13 |
Phone:
828-733-4337 (Gate)
800-468-7325 (Office)
Be sure to check out the Grandfather Mountain Specials they offer in April and other great times thru-out the year!
Main Attractions
Mile High Swinging Bridge – Visitors can walk this 250 ft. long bridge that swings 5,305′ above sea level. Enjoy the thrilling walk and breathtaking views.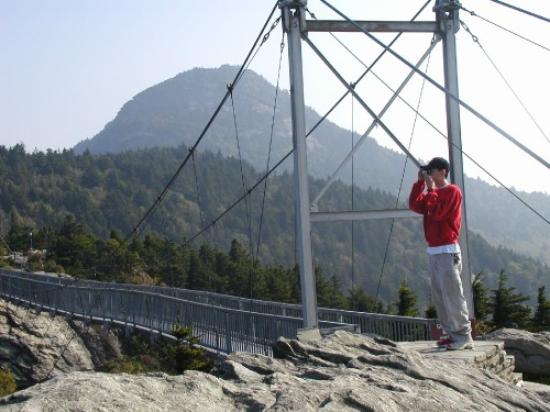 Nature Museum – The museum is a 2,200 exhibit area displaying features of the mountain's geology, animal and plant life. The museum complex houses a spacious restaurant and dining area, restrooms, a gift shop which offers high quality, nature-oriented souvenirs, and a 165-seat auditorium where visitors can enjoy free nature movies filmed mostly at Grandfather Mountain.

Wildlife Habitat – Visitors may visit with Cougars, Eagles, Deer, river Otters, and Black Bears. These habitats are large enclosures that allow visitors to see animals in natural settings. Separated from the animals by moats or elevated above the habitats on large retaining walls, these viewing areas allow you to stand only a few feet away from animals you probably won't see in your everyday life. Peanuts may be purchase for giving the bears an afternoon snack.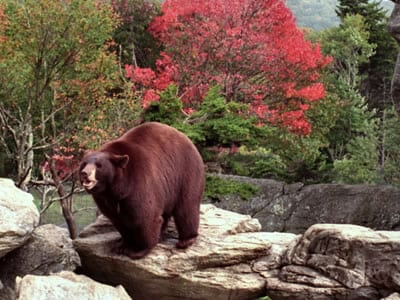 Hiking Trails – More than 12 miles of regularly maintained trails ranging in difficulty from easy nature walks to strenuous back country challenges.
For hiking only you may access Grandfather Mountain State Park from off-mountain trailheads. You will be required to register for a free hiking permit at area outlets.
History of Grandfather Mountain
The name Grandfather came from the profile of the Mountain's face resembling that of an old man.
Some local residents have different opinions over which is the "official" profile, but the one most frequently mentioned can be seen from the village of Foscoe, seven miles north of Linville and ten miles south of Boone on NC 105.
1962 US Geological Survey reported that some of the rock formation on Grandfather are 1.05 billion years old, dating back to the Precambrian period. The mountain itself, in its present character, is 620 million years old.
Gold was mined from three shafts on Grandfather prior to the 1849 California gold rush, but the high grade ore was played out long ago and even at today's prices, mining is no longer cost effective.
In 1885, Hugh MacRae graduated from the Massachusetts Institute of Technology (MIT) and began work as a engineer at the mica mines on Bailey Mountain in Mitchell County. While at this engineering job he made several trips by horseback and discovered Avery County. He was so taken by the natural beauty of the area that he immediately convinced his father Donald MacRae, to purchase 15,750 acres encompassing Grandfather Mountain, parts of Sugar Mountain, Grandmother Mountain and Flattop Mountain. Most of the tracts purchased between 1885 and 1890 by Donald MacRae belonged to Walter Waightstill Lenoir, grandson of General William Lenoir, for whom the town of Lenoir is named.
In 1889, Hugh MacRae founded the Linville Improvement Company and designed the Golf Course community called Grandfather Country Club at the foot of the mountain. It was the first Mountain golf course community in North Carolina.
In 1891-92, MacRae built the Honahlossee (pronounced "yon-a-la-see)" Road from Linville across the eastern slope of Grandfather to Blowing Rock. This opened his resort to personal transportation. He also starteda stagecoach line across the 20 mile scenic route that today is known as US 221.
By 1913, Linville was one of the smaller stations on the Eastern Tennessee & Western North Carolina Railroad, affectionately known as "Tweetsie" for the shrill whistle of her narrow gauge steam engines. Those same engines now operate at the Tweetsie Railroad attraction.
There was a horseback trail up the slope of Grandfather to an overlook known as "Cliffside,", and in the early 1900s, MacRae's son Donald and Julian Morton, husband of Agnes MacRae Morton, widened this path into a one-lane road that was passable by automobiles. A wooden viewing platform was constructed and a nominal toll was charged to those who wished to travel to the spectacular view from Grandfather.
In 1946, Hugh Morton, the eldest son of Julian and Agnes, returned from the service as a United States Army cameraman in the South Pacific and took over his late father's duties as president of the Linville Company. Hugh dreamed of a road leading to the crest of the Grandfather with a bridge across to Linville Park. However, family stockholders disputed Morton's premise that more people would pay to see the view from the top of the mountain. Morton was successful, however, in widening the existing road to two lanes and improving the quality of access.
In 1952, the Linville Company was dissolved and its assets distributed among the family members. Hugh Morton, whose love for Grandfather had been life-long, became the sole guardian of the mountain and he immediately went to work on fulfilling his dreams.
Six months later, on September 2, 1952, Governor William Umbstead held a ceremony and dedicated the Mile High Swinging Bridge and the roadway to the top. The governor's nine-year-old daughter, Merle, was the first to officially cross the suspension bridge. The Bridge is 5,305 feet above sea level.
This spectacular suspension bridge was constructed by architect Charles Hartman, Jr. to withstand three million pounds. Most visitors find this figure too large to believe, so a sign was posted suggesting a load limit of 40 persons as a more believable capacity.
In 1968, a local wildlife club asked Grandfather Mountain to participate in a black bear propagation program. Visitor Center Manager Winston Church was sent to the Atlanta Zoo to bring back a pair of bears for release the following spring. It was not until his return to North Carolina that Church realized he had two male bears. Arrangements were made to return to Atlanta for a female. By accident he was given the zoo's pet, which was raised by the office staff.
The two bears were retained in a holding cage until spring, when the male was released. He ran into the forest, never to be seen again. The staff waited to release the friendlier female because the Arthur Smith television crew was filming a show and wanted to use her in a video version of a tune called "The Preacher and the Bear." It was Brother Ralph Smith who gave his new co-star the nickname "Mildred."
Mildred preferred human company and refused to depart for the woods. She hung around and pestered the camera crew all day and when they finished filming, Mildred strayed into the valley in search of companionship. After several days of upturning trash cans at local homes, Mildred was returned by wildlife officials to Grandfather Mountain for safe-keeping.
For several summers, Mildred and her cubs, Mini and Maxi, posed for pictures three times a day, returning to their cages between "shows." Then, in 1973, Mildred and her family moved into a spacious environmental habitat built in one of the most picturesque spots on the mountain. The large enclosure allows the bears to make real dens and to seek privacy when they need it. Considered the most humane concept in zoo enclosures, the Grandfather habitats are truly the most natural setting possible for these bears.
The displays were expanded to include a separate enclosure for a mother bear with cubs, a cougar habitat, a deer habitat, and two small, open-air habitats for bald eagles and golden eagles.
On July 13, 1974, John Harris of Kitty Hawk, NC became the first man to fly a hang glider off Grandfather Mountain. In the decade that followed, hang gliding flourished at Grandfather.
Professional pilots gave demonstrations four times daily during summer, when weather would allow. Competitions were also popular, prompting Grandfather to host a U.S. Open tournament and to sponsor the international Masters of Hang Gliding Championship.
By 1986 the gliders had evolved into much faster, high-performance wings. The small landing areas at Grandfather became increasingly unsafe for the larger gliders, and demonstration flights were suspended in 1987.
The latest chapter in the history of Grandfather Mountain is highlighted by the opening of its new Nature Museum in late May of 1990.
Hiking Trails
The Profile Trail
The Profile Trail of Grandfather Mountain offers spectacular views and challenging terrain. The trail to the top is 3 miles long, going through a 2,000'change in elevation. The top is somewhere around 5,400 feet. The first mile and a quarter is fairly easy and you see many families hiking here. There is a nice stream running over boulders in the middle of the forest. From here, hike about 1 mile on some more challenging terrain. Lots of switchbacks and much steeper here…great view of the "Grandfather" profile which gives the mountain the "Profile" trail name. You will then reach a rock cliff…take a rest here. The next 1/2 to 3/4 of a mile goes up steeply across boulders. Once you reach the top and decend about 50 feet, you will come to a junction. If you turn right, you will reach the mile high swinging bridge. Once you there, turn back and head for the car. The total hike will probably take you 4-5 hours unless you into fast hiking. In summary, the trail is scenic, convenient, patrolled, and well-maintained.
Directions to Hike
South on 105 from Boone, NC. Trailhead is well marked on east(left if heading South) side of the road. Parking for approx 10-12 vehicles; steep, winding, paved entrance.
South's Most Alpine Climb
Length: 2 miles Level: Expert
From the Swinging Bridge area, climb the Grandfather Trail up cliffs on ladders to the massive, teetering boulder of MacRae Peak. Loop back on Underwood Trail.
Postcard Perfect (and partly handicapped accessible)
Length: 1.5 miles Level: Easy-to-Intermediate
Hike to the spot where Hugh Morton took his famous postcard pictures of Linn Cove Viaduct. From Linn Cove Visitor Center, the Tanawha Trail — 0.4 miles under the span is paved and flat — explores a boulder garden on the way to a great view.
Birth of a mountain stream
Length: 0.5 to 2 miles Level: Easy
The start of the Profile Trail is an easy amble along the fledgling Watauga River. Spot trout in pools. Youngsters welcome.
N.C.'s "Old Man of the Mountains"
Length: 4 miles Level: Strenuous
New Hampshire's famous "Old Man" formation fell off his mountain in 2003. His "relative" may be here. People see a number of faces on Grandfather Mountain, but the most startlingly realistic is an awesome view from the Profile Trail near Banner Elk. Falcons nest atop that rocky ridge.
South's only glacial cirque
Length: 4 miles Level: Easy-to-Intermediate
Did a glacier rest in the scoop-shaped "Boone Bowl" below Calloway Peak? It looks like one did, and that once had geologists guessing. From the Blue Ridge Parkway, take Nuwati Trail to a spectacular valley and awesome viewpoints.