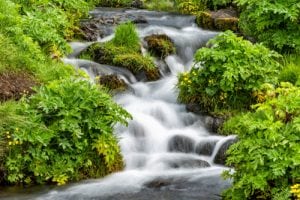 Summers in the High Country are refreshingly intoxicating. The plants and trees are colorful and healthy from the heavy Spring rain, and the temperature is perfectly warm and pleasant. Little humidity makes playing outside just about the only thing you want to do in the summer months.
Antler Realty brings a fresh, contemporary approach to buying and selling real estate in the Blue Ridge Mountains of North Carolina. If you are ready to set your roots in the Avery County / Seven Devils area, talk to the people who know area's real estate best. Antler Realty guarantees that we can find you the best deals and your perfect match among Seven Devils cabins!
Summer Fun: Always a Short Drive Away
Summer fun is never far in the North Carolina High Country. Virtually every community and village have special events scattered throughout the season.
If you are seeking fun nature expeditions, consider visiting Linville Falls. Work up a sweat and then cool off with mist from the thunderous waters. A short trip south of the Falls is Linville Caverns. View the incredible stalagmites and stalactites that naturally occur in the caverns, as well as "true darkness" deep within.
For rainy summer days, the Appalachian Summer Festival is a hit among locals and visitors alike. Performances from up-and-coming musical artists to internationally renowned dance troupes make the drive to Appalachian State University's campus worth it ten-fold.
If you are a fan of reading, Seven Devils is proud to offer a Book Exchange in the Town Hall. You can borrow as many books as you would like. The Book Exchange requires no library card as it runs on the honor system. Just please be sure to return the books when you are finished with them!
Winter Wonderlands All Around
The North Carolina High Country is filled with holiday cheer, no matter how you celebrate. The downtown areas of each of village and town are decorated with bright and colorful lights, making it almost impossible to feel grouchy.
If you are all about staying cozy in the freezing months, Antler Realty would love to help you find the perfect array of Seven Devils cabins with fireplaces to choose from.
If you are all about winter sports, three world-class resorts in the county guarantee that you and your family will not run out of winter activities! We can help you with all types of Seven Devils real estate. If you are looking to be closer to the ski resorts, we feature listings in Sugar Mountain and Beech Mountain.
Let's Get You Settled
Ready to move forward and start living mountain life? Call the folks at Antler Realty to find the best deals and steals on Seven Devils cabins. Our commitment to you begins with your first call. Give us a ring at (828) 898-3111 and let's get you settled!