Check out this great information on Linville Gorge from www.hikinginthesmokys.com.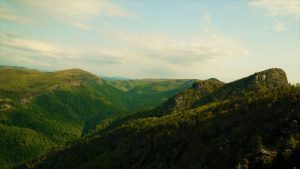 Linville Gorge
"The Linville Gorge Wilderness Area, sometimes referred to as the "Grand Canyon of the East", is one of the wildest, most rugged gorges in the eastern United States. It's also an outdoor paradise for both hikers and backpackers…
There are 39 miles of trails that weave in and out of Linville Gorge. Hiking trails in the Gorge generally start along either of the two gravel forest service roads that traverse the east and west rims. Most of the footpaths lead down towards the river, meaning most trails traverse steep terrain, making for some rather strenuous and challenging hiking. At the bottom of the gorge is the longest trail in the wilderness area, the 11.5-mile Linville Gorge Trail which runs along the west side of the river.
Because this is a Federal Wilderness Area, hiking trails are not well marked or well maintained. It's extremely important for all hikers to carry a detailed trail map of the area before venturing out onto any of the trails. Beginners, and those without land navigation training, would be well advised to stick to the basic and shorter routes."