Nestled in the midst of the Blue Ridge Mountains, Beech Mountain offers residents and visitors sweeping vistas that will take your breath away. Having fallen in love with Beach Mountain during a summer visit, or winter skiing trip, Antler Realty can help you make this picturesque town your new home. Antler Realty serves several communities around the Banner Elk and Beech Mountain area, and provides our customers with an opportunity to find their mountain paradise among the Beech Mountain homes for sale.
Mountain Living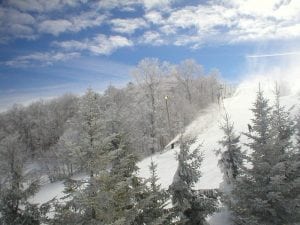 With numerous seasonal activities, Beech Mountain has a little something for everyone. Pack a backpack with water and snacks and explore the several gorgeous hiking trails located all around Beech Mountain and the Blue Ridge Parkway. Hike up to Calloway peak via the profile tail to work up a sweat, and then get a cold drink at one of the areas several breweries or high-end eateries. However, if you enjoy the cooler weather, Beech Mountain also has several winter activities.
In a short drive, you can strap on a pair of skis or a snowboard and be slaloming down some of the best ski resorts in the United States. Our mountain resorts are high quality and offer winter activities for everyone. From skiing, to snowboarding or tubing, the whole family will have a blast! When you purchase one of the Beech Mountain homes for sale, all the best mountain amenities will be a short distance away. Let Antler Realty find your new home in the mountains and every day will feel like a vacation.
Antler Realty
At Antler Realty, we are dedicated to providing our customers with individualized attention and care to ensure that they have access to some of the best Beech Mountain homes for sale. Our expert team of Beech Mountain real estate agents have over 50 years of experience between them. The professional agents at Antler Realty are prepared to provide you with comprehensive and effective service.
If you are ready to make sure that your dream mountain home can become a realty, contact Antler Realty and set up an appointment to discuss your real estate needs and view some of the Beech Mountain homes for sale. Our expert agents will make sure you are enjoying all the Blue Ridge Mountains have to offer in no time.